Cartoozo: An Award Winning Internet Marketing Agency
Cartoozo is a multiple award winning Internet Marketing Agency specialising in helping businesses make a profitable income from the Internet. Our services span into every facet of Internet Marketing, including Web Design, Search Engine Optimisation, Pay Per Click Management (PPC) and Online Reputation Management (ORM).
With over 10 years experience and an active client base of over 300 companies, we are dedicated to achieving the best possible results for your business and your customers, whatever your requirements.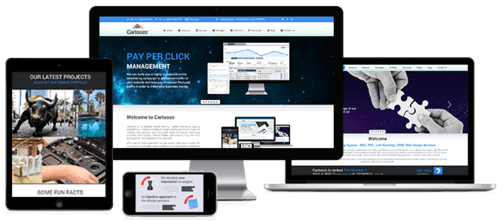 Award Winning Company
We've been nominated, shortlisted and won several industry awards over the past few years in the Internet Marketing industry. We are highly rated on multiple freelance websites such as Guru.com and Elance.com, and we are widely known as one of the leader providers for Search Engine Optimisation & Pay Per Click.
We live and breathe digital marketing and we specialise in strategies that deliver the highest return on investment for your business. We like to work with our partners so you literally have an extra member of your team on board with you to advise, implement and analyse whatever you require.
OUR LATEST PROJECTS
CHECK OUT OUR WEBSITE PORTFOLIO
OUR BACKGROUND
About Cartoozo
We develop new
ways to interact
Online Marketing
Functionality
Website Strategy
Opportunity Analysis
We work with you to develop new interaction
strategies and to help you to reach out to a
largest customer base. We also help you to
implement it and use it to build your future.
An intuitive approach to design your website
User Testing
Goal Tracking
Friendly Design
Conversion Tracking
We make sure that your website is build in
such a way that it engages with your users
and it provides your visitor with a good user
journey and intuitive user experience.
Pioneering digital marketing strategies
Search Engine Optimisation
Pay Per Click
Social Media
Website Traffic
We drive traffic to your website overnight
using the latest digital marketing strategies.
We help you to improve your traffic, increase
conversions and make you more money.
Our client Portfolio
SEE WHO WE HAVE WORKED WITH
Want to know how Cartoozo can help you?
Give us a call on US +1 646 568 4375 or UK +44 207 060 6772