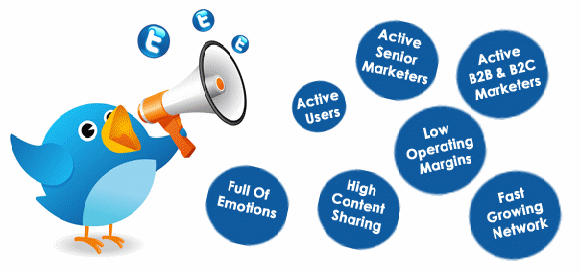 Leveraging the power of Twitter for the growth of online businesses is an inevitable move for any organisation and ignoring this power of social media platform is certainly not a smart idea. Twitter is the perfect platform for creating, discovering and sharing content on the web.
For your content to be consumed by the right audience and to promote your brand online it is important to choose the right platform to do so. Though there are hundreds of reasons why Twitter stands out as just the right platform for building your brand, we have sorted out the 10 most important ones for you, which will more than swiftly compel you to engage in full fledgedTwitter marketing.
1.The Large number of active users associated with Twitter.
With over 271 million active users currently on Twitter, the user volumes associated with it are ever increasing. The data is not only large, but diverse too, with users participating from all around the globe and associated with different industries. Reaching out to your target audience through Twitter will also be scalable in the coming years, as it is projected to have about 400 million users by 2018 as per Reuters.
2.Large number of users logging in on a daily basis.
Not only does Twitter have a large base of active users, but over 100 million of these users login to their accounts at least once per day. For a large number of people Twitter has become a daily routine and amongst them is a number of potential customers.
3.Active usage of senior marketers.
Senior marketers and decision makers, like chief financial officers,regularly post various types of content including videos, pictures, and conversations on Twitter. They describe themselves on Twitter in various ways and it reveals the keywords that can help you to reach them, engaging with them across a Social Web. The following word cloud from a report from Leadtail.com shows the popular keywords used by CFOs in their profiles.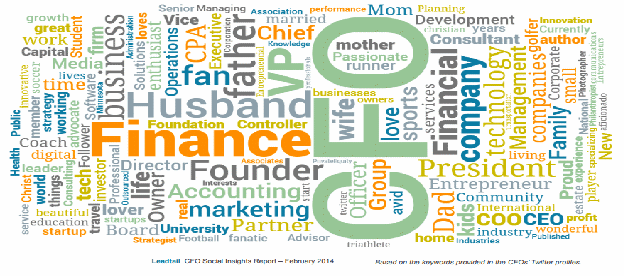 4.Active usage of B2B and B2C marketers.
According to a 2014 survey by Social Media Examiner, 86% of B2B marketers and 81% of B2C marketers use Twitter, making it a hard to ignore platform for businesses wanting to make a strong mark on the web. The following visuals indicate the key findings of this survey.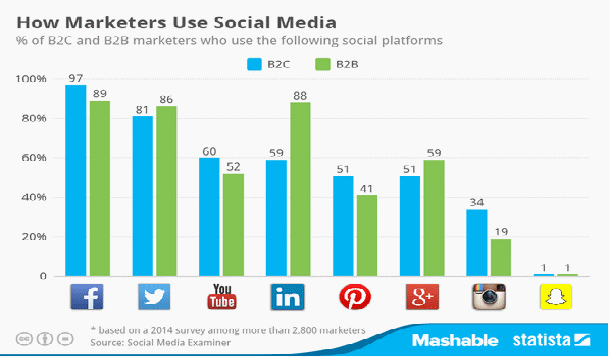 5.High frequency of shared content.
There are over 500 million tweets sent per day and 5700 tweets sent each and every second making Twitter a potentially powerful online marketing tool. This data shows how users are actively engaged with Twitter, sharing and discovering ideas frequently on this social networking platform.
6.It's mobile and so it is everywhere.
A total of 78% of monthly active users on Twitter use a mobile device, which is equivalent to a whopping 173 million. According to GlobalWebIndex study, mobile media has the largest impact on Twitter,which is used by 94 million active Twitter members to share photos compared to 140 million on PC. This mobile vs PC photos sharing proportion is the highest compared to any other social network.
7.Low operating margins compared to Facebook.
As per Nomura company data estimates, Twitter's operating margins in 2013 were very low of minus 2.8 percent compared to the high operating margins of 48.4 percent for Facebook. These figures indicate how high profit margins could be achieved through Twitter in the coming years.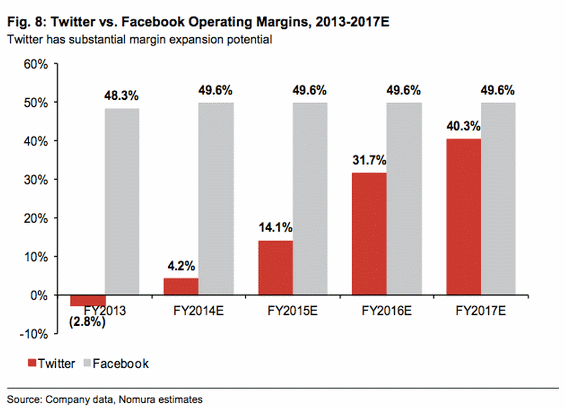 8.Twitter is full of emotions.
There is no denying the fact that the knowledge of flow of emotions among consumers can be a very constructive asset to the growth of any business. With Twitter, one can easily have an insight into the emotional state of the world which is being mapped by Twitter in real time in different locations and genders. Below is a sentiment analysis of tweets in real time in the We feel application by CSIRO.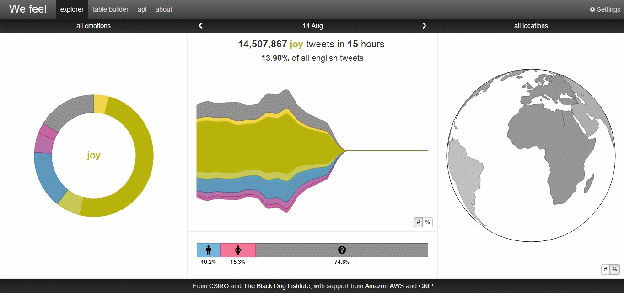 9.Large volumes of search queries handled by Twitter.
Twitter handles an enormous amount of approximately 19 billion search queries per month with about 600 million queries per day. This volume is equivalent to about 20% of the search queries handled by the search giant Google. Also, these numbers are more than the queries handled by Bing and Yahoo combined.
10.Twitter is growing fast. Too fast!
As per Search Engine Journal, Twitter grew by 44% compared to last year, making it the highest growing social network. This growth rate is more than Google+ with 33% and Facebook with only 23% growth rate. If you are looking to grow your business online, you can power its growth by utilising this platform as much as possible.
So Now It's Time to Tweet
There are many reasons than the above mentioned that highlight the need of online businesses and marketers today to exhaust Twitter for enhancing their profits margin. Twitter's potential to benefit businesses is doubtless and as a smart marketer, you should tailor your Twitter activities to make the most of Internet marketing through this social networking bird.